My name is Katie Byrne and I work as a sports facilitator for the Irish Wheelchair Association. My role was created to get as many people with Physical Disabilities involved in sports as possible. Within North East Thunder wheelchair basketball club, I am the coach of the Junior Basketball team, and assistant coach of the Senior Basketball team.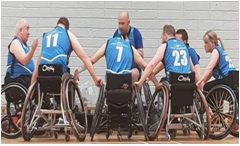 North East Thunder is the local Wheelchair Basketball club in Louth. The club has been running for 10 years with it only changing name to North East Thunder 4 years ago. Our club has members from Louth/North Dublin/ Meath involved. Currently between the senior and Junior squads we have 32 players. This club is at the heart and soul of the work I do, to see our players start of nervous and barely able to catch a ball growing into adults who excel at the sport is the reason why I put so much of my own time into it.
Our players have also expressed to us that the club has been invaluable to them. They have met other people who are in similar situations, seeing that they have a life outside of their disability i.e. married, jobs, houses, kids etc. The Wheelchair Basketball League is like a massive family unit and it helps our players socially at both junior and senior levels. There are also massive health benefits that go along with training and playing Wheelchair Basketball.

My role in the club is to keep the club running, to coach at Junior and senior levels and to run training and ensure that match days are organised. I believe that my biggest role in this club is to mentor our young players and to be there as a support for them.
The Louth Sports Unit's Small Clubs Grant has really helped our club. Through receiving the small clubs grant we were able to ensure that we have the right equipment there for our training sessions. Without the small clubs grant our team would struggle to have the equipment i.e. Balls, bibs etc to run our training sessions. Our club is classed in the disadvantaged area, whereas we don't have much money and we are very grateful for what the small grants club can help us achieve.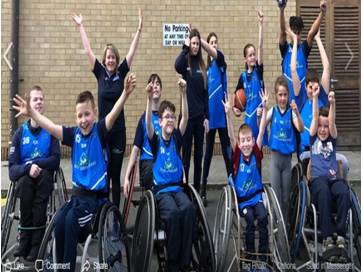 I would just like to say a massive thank you to the Louth Local Sports Partnership for choosing us to receive the small clubs grant. Our club is very grateful, and we believe that the work that is put into giving these grants by Louth Sports Unit cannot go unrecognised. The grants that you reward are what build's clubs.